Every driver has one; a race that can be pin-pointed as being the one that moved them from pretender to contender.
The last few months have seen some interesting things written about Marcos Ambrose; the two most intriguing, to me anyway, was the debate on nascar.com whether Ambrose or David Ragan will be next in line to score their first Cup win and the other being a poll taken yesterday during the race on yahoo if Tony Stewart or Marcos was the surprise of the year.
Let's address the first article; will it be the man everyone was raving over at the last third of the 2008 season or will it be the tough-as-nails Aussie who, even when he has a bad day, says how lucky he is to be in NASCAR?
On paper prior to the Daytona 500, it was a no-brainer; Ragan was with the top Ford team while Ambrose was driving for a brand new team that had raced in less Cup races than I have fingers. Indeed, I predicted David to make the Chase while Marcos would be lucky to end up in the top 25...I couldn't have been more wrong if I tried now, could I? *laugh*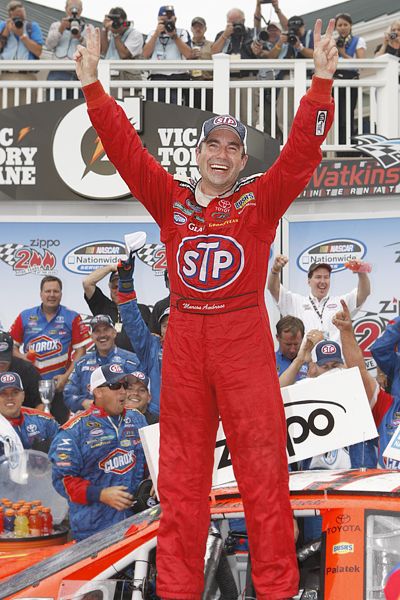 Ok, hands up if you had Marcos in with a shot for the Chase this year?
For whatever reason, the #6 UPS Ford Fusion has been struggling for the majority of 2009 while the #47 Little Debbie Toyota Camry has been flying high. It wasn't much of a surprise to anyone that Ambrose would challenge on the road courses of Infineon and Watkins Glen, but the way he has taken to the ovals has raised more than a few eyebrows and dropped even more jaws. He arrived at Bristol in March and, using strategy to get to the front, somehow came away with a top ten even though he drove the last 100 odd laps on six cylinders. He backed that up with great drives at Martinsville, Talladega, Richmond, Daytona and Pocono (ignoring the road courses) before arriving back at Bristol last night.

And boy, did he put on a show.

Starting mid pack, he steadily made his way towards the front, content with following in Jimmie Johnson's wake. Ambrose's charge didn't halt when he got to the top ten either as he brushed aside Chase contenders Juan Montoya, Greg Biffle and David Reutimann, then had the audacity to come on the radio and say "Jimmie who?" when Johnson let him through - yes, the three-time Champ let this rookie go, that's how good the #47 was at that stage of the race - and just to add a cherry on top of his cake, passed Kyle Busch around the outside for third...all before we reached half distance. Over a long run, I doubt there was a car quicker than his, even Mark Martin would have had trouble keeping pace with Ambrose.
Marcos proved that the March race was no fluke.
Unlike in March, Ambrose kept all eight cylinders to the end and, in his best race of his NASCAR career so far, he wound up a career-oval-best third and his stock rose some more notches. While his 2010 semi-teammate, Martin Truex Jr, had a strong run going until blowing a tyre, he must have been grinning from ear-to-ear inside his helmet with the way all the MWR cars were running. This has been a breakthrough year for MWR with Reutimann getting their first win and still a mathematical chance of making the Chase but it's been Ambrose who has been the star in my mind.
Oh yeah, I nearly forgot about the poll. The end result went in Tony's favour as I expected...but only just; 52% plays 48%.
I think it's easily safe to say that Marcos Ambrose has arrived. He's no longer a road-ringer, but a fully-fledged NASCAR driver and I do believe he'll get that first win before David Ragan does. If he can escape the pesky 'sophomore slump' that has struck a few drivers in the past, he could very well find himself in the Chase for 2010...complete with bonus points for winning a race or two.
And if that is the case, it can be traced back to that one hot August night in Bristol; the race Marcos Ambrose cemented his place in the Cup series.